Welcome!
Quick Links for You!
OUR MISSION...........
"To enhance the quality of life for elders in our service area through education, planning and coordination of services."
---
The first and last number you need for information & services.
                               1.866.468.7887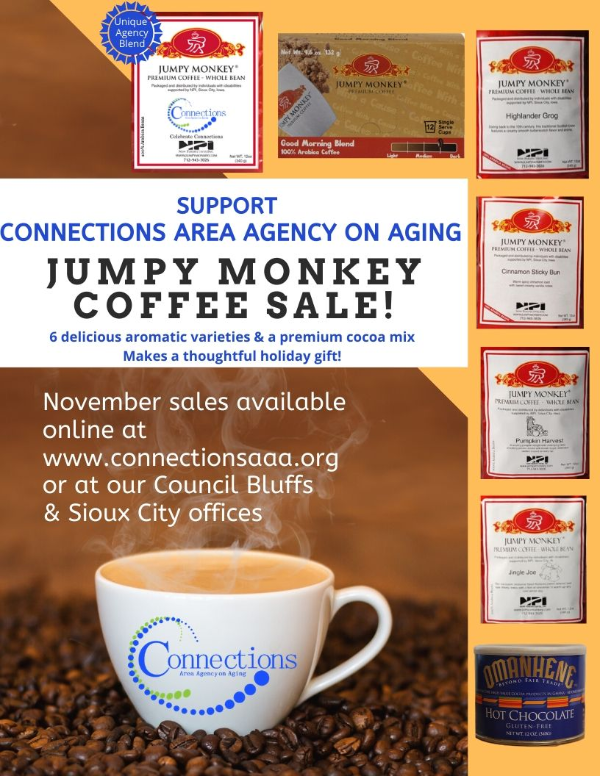 Chris Kuchta on 11/05/2019

Connections is excited to partner with Jumpy Monkey Coffee to sell several varieties of coffee during the month of November. Coffee sales through Connections will benefit senior programs. Coffee can be purchased on-line at our website (click on title to link to the e-commerce page) or at our Council Bluffs and Sioux City offices.

Jumpy Monkey Coffee is blended and packaged by persons with varying abilities, so your purchase brings a great cup of coffee to you, supports our programs and brings employment to persons with disabilities - a "Win-Win-Win!"

Varieties include: Celebrate Connections (a unique blend only available though this fundraiser), Cinnamon Sticky Bun, Highlander Grog, Pumpkin Harvest, Jingle Joe, and Good Morning Blend. For the non-coffee drinker, a Omanhene Hot Cocoa option is also available.

Farmers Market Voucher Distribution in Adair, Adams, Taylor, Unions, Clarke, Taylor, Ringgold, and Decatur counties

Chris Kuchta on 06/10/2019

Farmers Market applications and vouchers will be available at Senior Center/Meal Sites in Adair, Adams, Union, Clarke, Taylor, Ringgold, and Decatur counties, beginning in early June. Distribution in Leon will be on June 27th from 9-11:30, and in Lamoni on June 27th from 12:30-3:00.

Farmer Market Vouchers for Fremont, Harrison, Mills, Montgomery, Page, Pottawattamie, and Shelby Counties

Chris Kuchta on 06/03/2019

Farmer's Market voucher applications at your local senior center, beginning the week of May 28th. For Council Bluffs residents, applications are available at the YMCA Living Center, located at 714 S. Main Street. Returning a completed application guarantees you a booklet of vouchers valued at $30.

Completed Applications can be returned to the local senior center on or after June 10th. Distribution of vouchers in Council Bluffs will be on June 10th from 9:00 am-noon at the YMCA Living Center.

Program Criteria
* must be at least 60 years of age
*Annual income must be less than $23,107 (single) or $31,384 (married)
*Only one application per individual. No photocopies or duplicate applications allowed. Married couples can file jointly on one application.
---