"Take Care to Give Care" Virtual Caregiver Conference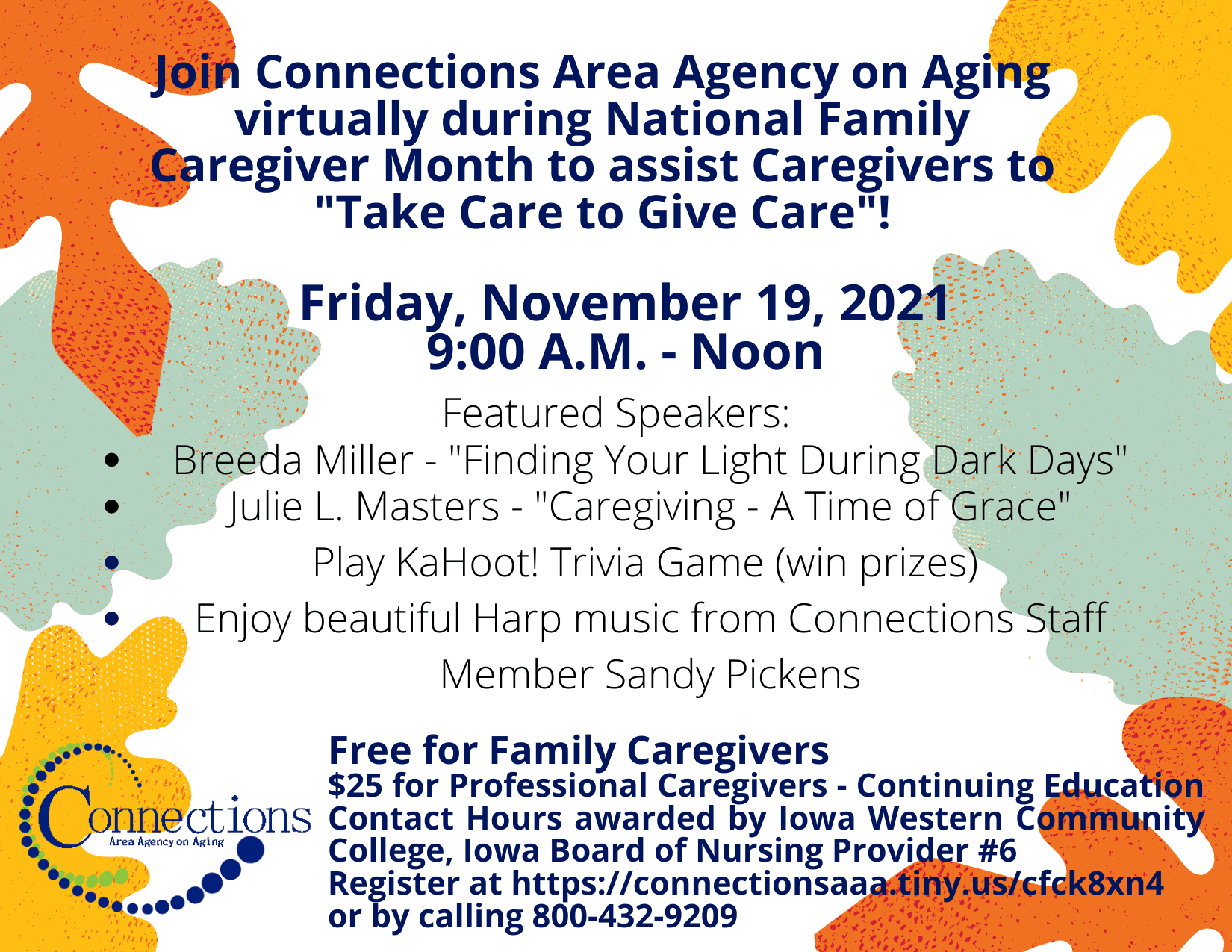 Connections is excited to celebrate National Caregivers Month by hosting a Virtual Caregivers Conference.
Enjoy a morning of fun for family and professional caregivers.
The fun will include two (yes, two) dynamic speakers.
Breeda Miller - "Finding Your Light During Dark Days"
Breeda is the author of "The Caregiver Coffeebreak" and "Take a Break Before You Break."
Julie L. Masters - "Caregiving - A Time of Grace"
Julie is a Gerontology Professor at University of Nebraska-Omaha.
Play Kahoot Trivia Game and win prizes. (and who doesn't like to win prizes!)
Enjoy the beautiful harp music of Connections Staff Member, Sandy Pickens.
Learn more about the programs and Resources available from Connections Area Agency on Aging.
Free for Family Caregivers
$25 for Professional Caregivers - Continuing Education Contact Hours awarded by Iowa Western Community College, Iowa Board of Nursing Provider #6
Connections Area Agency on Aging's is happy to announce that we will be hosting our 3rd Annual Secret Santa for Seniors, holiday gift program. We are looking for nominations for older community members aged 60 or older that have little or no family near, that would benefit from some holiday cheer. We are also looking for community members that would like to "adopt" an older community member and purchase gift cards from their wish list.
We are focusing on gift cards again this year to ensure health and safety for our older community members and our donors. Our seniors are thrilled to be able to shop for wanted items without affecting their tight budget.
Three years ago, Connections staff came together, and thought it would be great if there was a holiday giving program specifically for seniors. There were many programs throughout our service area for children and families, but no programs just for our older community members. In the previous 2 years we have been able to bring holiday joy to 139 seniors across our service area.
"It is such an honor to be able to offer this unique program again to our very special community members. A common theme in talking with our seniors is the gratitude they have to receive gift cards to purchase wanted items without choosing between a basic need and to be remembered during the Holiday Season. Our program is a great example of how community comes together to support each other and its members." Tasha Jones
To find out how you can nominate an older community member for the program, or how you can donate contact Tasha Jones at tjones@connectionsaaa.org
Connections Area Agency is one of six Area Agencies on Aging in Iowa, and part of a nationwide network. With a mission of enhancing the quality of life for elders in 20 counties through education, planning and coordination of services, Connections Area Agency on Aging is the premier agency for assisting elders, caregivers, and their families to access the information and services needed for independence and life transitions. Offices are located in Council Bluffs, Creston and Sioux City. For more information, contact Connections AAA at 800-432-9209 or at www.connectionsaaa.org