Our Mission and History
Connections Area Agency on Aging is part of a nationwide network of over 650 Area Agencies on Aging. Area Agencies on Aging were established in 1973 following the enactment of the Older Americans Act, later signed by Lyndon B. Johnson in 1965. They were designed to respond to the needs of Americans age 60 and over in every community, throughout the United States.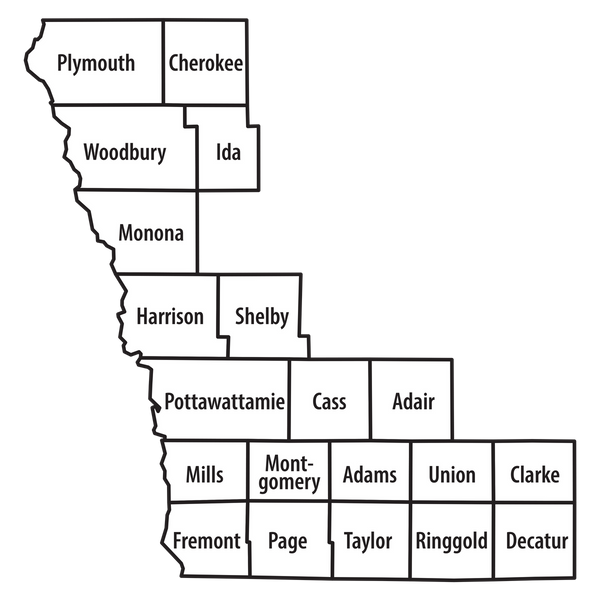 Connections Area Agency on Aging is one of six Area Agencies on Aging in Iowa,with oversight by the Iowa Department on Aging. Connections Area Agency on Aging provide services and supports for the following Iowa counties: Adair, Adams, Cass, Cherokee, Clarke, Decatur, Fremont, Harrison, Ida, Mills, Monona, Montgomery, Page, Plymouth, Pottawattamie, Ringgold, Shelby, Taylor, Union, and Woodbury.
Offices are conveniently located in Council Bluffs, Creston, and Sioux City.
Connections Area Agency on Aging has also been designated as an Aging and Disability Resource Center by the Iowa Department on Aging. As part of the statewide LifeLong Links program, we are able to assist older Iowans, caregivers, persons living with disabilities (age 18+), and veterans in accessing information and supports they need to remain independent in their communities.
---
Our mission is to enhance the quality of life of elders in our service area through education, planning, and coordination of services.
Our mission is met through:
Assessing current needs of older Iowans in our service area

Determining what services and programs are available

Developing plans to address service gaps

Advocating for the needs of older Iowans

Financing service contracts

Working one-on-one with individual clients

Providing information and assistance to older Iowans, their families and caregivers

Identifying available payment sources for services to seniors
Connections Area Agency on Aging provides services without regard to race, color, national origin, sex, age or disability.