Prevention and Awareness Program
Elder Abuse can happen to anyone. It is one of the most under-recognized and under-reported problems in the United States.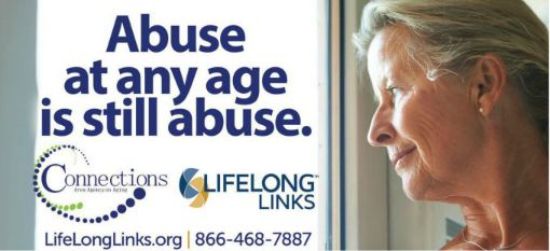 Awareness and Education
Awareness of the problem of elder abuse is key to reduce such abuse in Iowa. The Elder Abuse Prevention and Awareness Program at Connections Area Agency on Aging strives to raise the awareness of the problem of Elder Abuse in our 20-county service area.
Our trained Elder Rights Specialists are available for:
Presentations about awareness, detection, and prevention of elder abuse to community groups or organizations

Individual information and assistance
Prevention and Intervention
Our trained Elder Rights Specialists are available to assist at-risk seniors, their caregivers, family and friends.
The Elder Rights Specialists provide:
A confidential referral and intake process

An in-depth risk assessment

A comprehensive service plan specific to the needs identified in the risk assessment

Follow-up and advocacy until the risk is reduced or eliminated
Who is Eligible for Prevention/Intervention Services?
Persons, age 60 and older, who are at risk for abuse or have been abused

Elders whose needs are not being met by themselves or others

Elders who are a risk to themselves

Caregivers who are experiencing difficulty in providing adequate or appropriate care

Persons with multiple health and social needs
Abuse or risk for abuse can be physical, sexual, financial, or denial of care (neglect) by either a caregiver or the elders themselves.



       Click here for Signs of Abuse      
Who Makes the Decisions?
All adults, unless an adult has been declared incompetent by the court, possess the right to make decisions, even if those decisions appear unwise or unhealthy. Elder Rights Specialists respect an elder's right to accept or reject assistance or services. Only in cases of imminent danger will staff seek involuntary assistance.
How to Make a Referral
Intervention is currently available in the 20 counties served by Connections Area Agency on Aging.

Education and Awareness programs are available upon request. These include programs specifically aimed about recognizing and what to do if abuse is suspected, or about current scams that target seniors.

To make a referral or speak to an Elder Rights Specialist:
IMPORTANT NOTE: The Iowa Department of Human Services remains the investigative agency for Dependent Adult Abuse. If you suspect dependent adult abuse, you should immediately call the toll free Abuse Hotline at 800-362-2178. If the person is at risk of imminent danger, call 911.