Welcome!
Quick Links for You!
OUR MISSION...........
"To enhance the quality of life for elders in our service area through education, planning and coordination of services."
---
The first and last number you need for information & services.
                               1.866.468.7887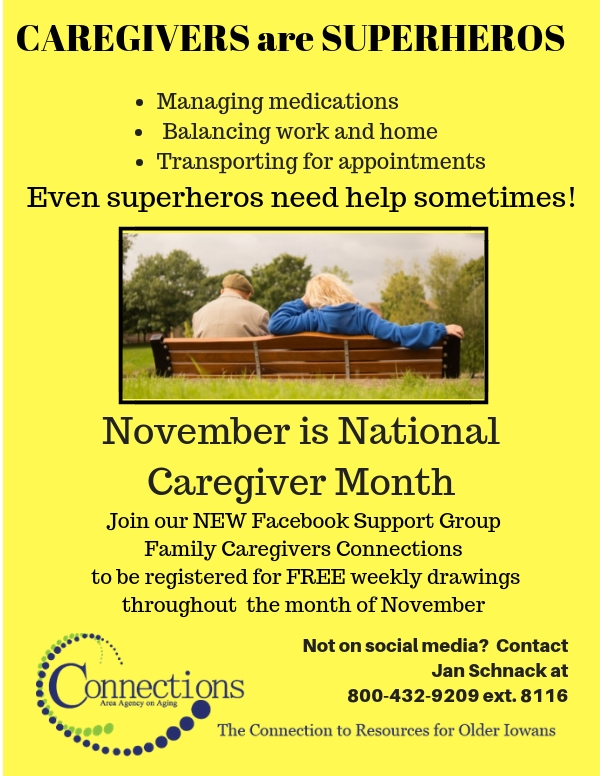 Jan Schnack on 11/01/2018

We are pleased to announce a new on-line Caregiver Support Group, using Facebook. We know caregivers are busy people - balancing work, home, their loved one's care and so much more. This open forum format will give caregivers the opportunity to ask questions, to get advice, to give advice and connect with other caregivers and our Family Caregiver Specialist!

Family Caregivers Connections is a support group for Iowa Caregivers who are caring for their elderly loved ones. The group is closed to members only. Jan Odens Schnack, a Family Caregiver Specialist at Connections Area Agency on Aging is available for any questions, assistance or guidance that might be needed. You are invited to share your thoughts on anything you would like. We hope this space can be a positive outlet for someone who needs caregiver support. This group is ran and moderated by Connections Area Agency on Aging (www.connectionsaaa.org), a nonprofit 501(c)3 organization with office locations in Sioux City, Council Bluffs and Creston.
THIS IS A CLOSED GROUP: All posts made within this group are only seen by group members and will not show up in your Facebook friends' news feeds. Please remember to be kind and keep all posts supportive and positive.

Click on title to link directly to the group!

Kris Gross, IA SHIIP on 11/01/2018

This information comes from the State SHIIP office - IA Insurance Division.
Connections is proud to be a sponsor site at both the Council Bluffs and Sioux City Offices.
Des Moines – Open enrollment is underway for Medicare Advantage and Medicare Part D prescription drug plans and the Iowa Insurance Division's Senior Health Insurance Information Program (SHIIP) is available to offer free, unbiased and confidential assistance to Iowans.

"Iowans have nine new Part D drug plans available to them in 2019 and many new Medicare Advantage options," Iowa Insurance Commissioner Doug Ommen said. "Medicare can be very confusing, and I encourage any Iowans eligible for Medicare as well as caregivers to reach out to our SHIIP team for assistance before the open enrollment window closes."

Iowans may make changes to their Medicare Advantage and Medicare Part D prescription drug plan during open enrollment through December 7, 2018. Iowans that miss the open enrollment deadline most likely would have to wait a full year before making changes to their plan.

To read more, please click title.

Changes in Social Security and Medicare for 2018

Justice in Aging on 10/19/2018

On Thursday, October 11th, the Social Security Administration announced the annual cost-of-living adjustment (COLA) for the Social Security and Supplemental Security Income (SSI) benefit amounts people receive each month. The 2.8 percent increase will begin with benefits payable to more than 62 million Social Security beneficiaries in January 2019.
Increased payments to more than 8 million SSI beneficiaries will begin on December 31, 2018.
• The monthly maximum federal benefit amounts for SSI in 2019 are $771 for an eligible individual, and $1,157 for an eligible couple. By law, federal benefits increase when the cost of living rises, as measured by the Department of Labor's Consumer Price Index for Urban Wage Earners and Clerical Workers (CPI-W).
On Friday, October 12th, the Centers for Medicare & Medicaid Services announced the premiums, deductibles, and co-insurance for Medicare Parts A and B for the 2019 calendar year.
• The standard monthly premium for Part B enrollees will increase by $1.50 to $135.50, and the annual deductible will increase by $2 to $185.
• The Medicare Part A inpatient hospital deductible will increase by $24 to $1,364.
• The statutory hold harmless provision will continue to apply to about 2 million Medicare beneficiaries to protect them from a Part B premium increase that would exceed their Social Security benefits increase.
---