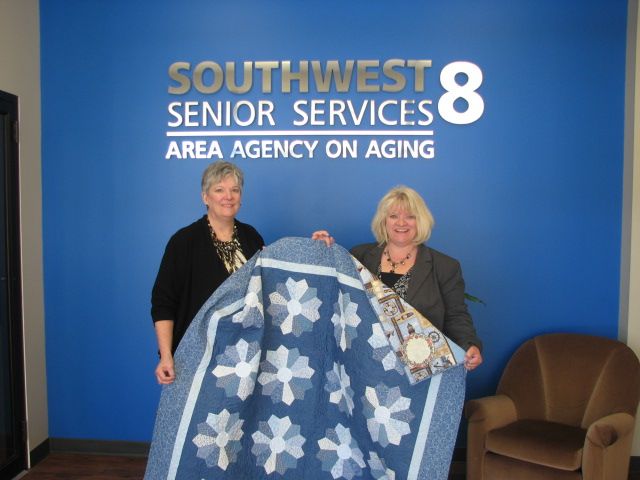 Our First Quilt-a-Quarter Raffle Has a Winner!
On July 31, Southwest 8 named its inaugural winner for the summer quilt, raffled from May until July. Jennifer from Bellevue is pictured above with Barb Morrison, executive director.
The quilt was made and donated by M. Virginia Bailey. It features a nautical theme reminiscent of summertime. It measures 60 inches by 60 inches.
The Quilt-a-Quarter raffle is held every quarter, or every three months. A new quilt is donated to the agency by talented crafters. The proceeds from the raffle alleviate funding needs for:
• Friends and Family Respite Program provides temporary relief care designed for families of adults aged 60 and older with special needs. For an eligible older adult, a family may receive authorization to receive up to $750.00 of Respite Care services per year (July 1- June 30).
• Southwest 8's Foster Grandparent Program provides volunteers aged 55 and older with an opportunity to work with children in day care centers, schools, shelters and other non-profit agencies that service youth. For their service, if they meet income requirements, the FG receives an hourly stipend, which is tax free and does not count as income toward any benefits that the volunteer is currently enjoying, providing that they serve a minimum of 15 hours a week.
• The Solution Options for Seniors Program (SOS) is a financial assistance program to help seniors with an unexpected critical life need, like plumbing, major appliance repair or automobile repair.
• In-home services to help seniors remain independent, in their own homes rather than placement in a nursing home.
For more information about the new quilt please see the flyer or call Autumn Eberly at 712-328-2540 ext. 1012 or email her at aeberly@southwest8.org.