Council Bluffs: Annual Golf Classic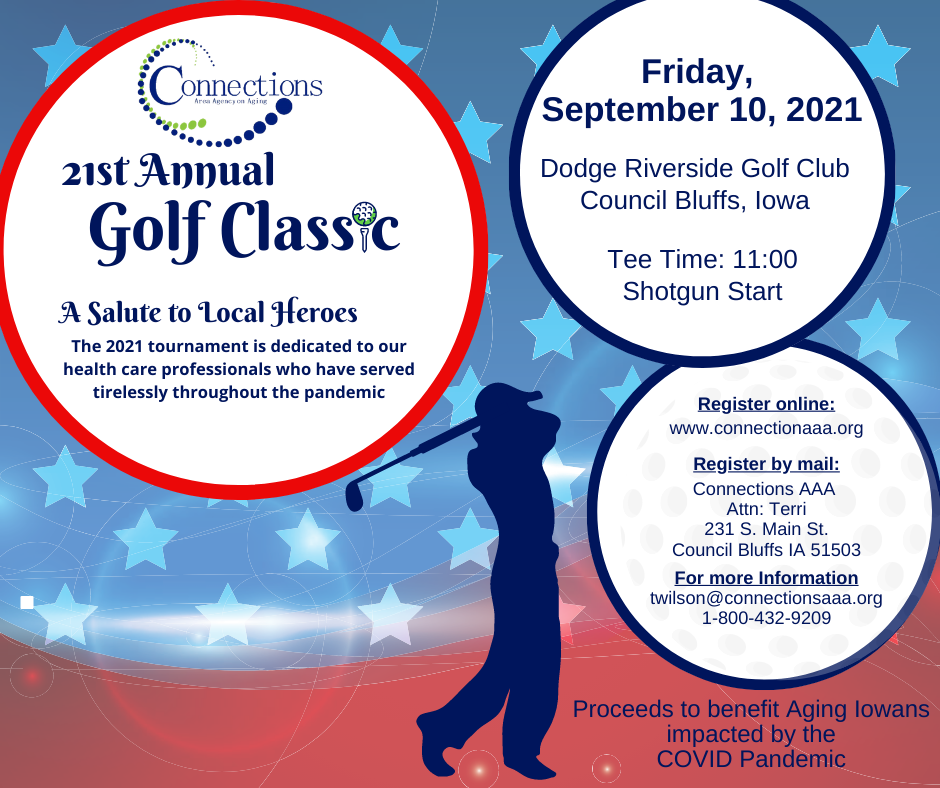 Dear Golfers and Sponsors,
We are excited to open registration to players, teams and sponsors for our annual golf fundraiser for Connections! It's been a year unlike any other, and we sincerely hope that you and your family have remained safe and healthy during this unprecedented pandemic. Like last year's event, we will be taking extra precautions to ensure your safety during the tournament, once again held in honor of support for our local heroes. In addition to saluting our fire, police and rescue heroes, this year we will be honoring our public health officials who have been critical to vaccination efforts that are helping us see the light at the end of the pandemic tunnel. Please join us on Friday, September 10th at 11am for this year's event. For safety precautions, we will be implementing the following:
• All participants will be provided with a safety kit which will include sanitizer, wipes, bugspray and a mask
• All carts will be wiped down prior to play
• Lunch will be "self-serve" grab and go grilled sandwich on the course
In recognition of the fiscal challenge posed by COVID-19, we are continuing our reduced sponsorship rates for this year, asking each bronze, silver, gold, and platinum sponsor to submit their registration and to please include a $50 gift card of your choice to be used as a pin prize for our players. This year's levels are at the same reduced rates as last year:
BRONZE: $150 + $50 Giftcard of donor's choice
SILVER: $400 + $50 Giftcard of donor's choice (Includes 1 team of 4 in tournament)
GOLD: $750 + $50 Giftcard of donor's choice (Includes 2 teams of 4 in tournament)
PLATINUM: $1000 + $50 Giftcard of donor's choice (Includes 3 teams of 4 in tournament)
Can't make it on the date of the tournament? Consider sponsoring a team of Heroes from public health, local Fire Department, Law Enforcement unit or Veterans for $300, or donate a giftcard!
Giftcards are a fun and safe way to reward flag winners, and they are easy to mail to the victors. Restaurants, movies, Amazon, as well as any store cards make excellent options.
Please review the attached materials and come on out and play with us on September 10th as we honor our local heroes and have a lot of fun all for the benefit of area seniors!
Hope to see you there!
Kelly
P.S. Please don't hesitate to call us if you or someone you know is having trouble receiving a COVID vaccine! We can help you obtain an appointment near you!