Council Bluffs: Annual Golf Classic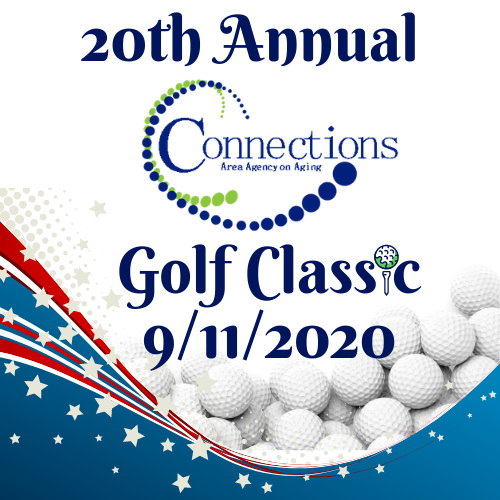 Dear Golfers and Sponsors,
After careful consideration, Connections has decided to proceed with our annual Golf Classic this year with a priority on participant safety. It is our 20th annual golf event, and we choose to go forth and honor our American Heroes on Sept. 11, 2020. We look forward to hosting you as we celebrate this year, and to assure your safe participation, we're taking the following measures for precautions:
• We will not be having a post-Tournament banquet this year
• We will not be conducting a silent auction this year to limit contact by multiple players on shared surfaces
• All participants will be provided with a safety kit which will include sanitizer, wipes, bugspray and a mask
• All carts will be wiped down prior to play
• Lunch will be "self-serve" grab and go grilled sandwich on the course
• All prizes will be mailed or delivered to winners after the tournament
In recognition of the fiscal challenge posed by COVID-19, we are reducing our sponsorship rates for this year, but are asking each bronze, silver, gold, and platinum sponsor to submit their registration and to please include a $50 gift card of your choice to be used as a pin prize for our players. This year's levels are reduced to the following:
BRONZE: $150 + $50 Giftcard of donor's choice
SILVER: $400 + $50 Giftcard of donor's choice (Includes 1 team of 4 in tournament)
GOLD: $750 + $50 Giftcard of donor's choice (Includes 2 teams of 4 in tournament)
PLATINUM: $1000 + $50 Giftcard of donor's choice (Includes 3 teams of 4 in tournament)
Can't make it on the date of the tournament? Consider sponsoring a team of Heroes from a local Fire Department, Law Enforcement unit or Veterans for $300, or donate a giftcard!
Giftcards are a fun and safe way to reward flag winners, and they are easy to mail to the victors. Restaurants, movies, Amazon, as well as any store cards make excellent options.
Please review the attached materials and come on out and play with us on September 11th as we honor our American heroes, celebrate 20 years of great golf tournaments, and have a lot of fun all for the benefit of area seniors!
Hope to see you there!
Kelly