AmeriCorps Seniors RSVP (Retired Seniors Volunteer Program) is a nationwide volunteer program that invites adults ages 55+ to use their life experiences, talents, and skills to impact their communities. Our RSVP program encompasses Mills and Pottawattamie counties. Each of these programs is an excellent way to make a difference in your community with a minimal time commitment.
For more information or to volunteer with our RSVP program, please complete the Volunteer Interest Form
Our RSVP opportunities include:
Being a mentor in our Reading Buddy program, working with youth in local schools to improve their reading skills. Reading Buddies serve a minimum of 1 hour per week at a designated school.

Spending time with nursing home residents as a Friendly Visitor, brightening their days with a friendly smile, social contacts, and compassionate interactions. Friendly Visitors commit to serving a minimum of 3 hours per month.

Volunteering as an Ombudsman in a local long-term care facility, serving as an advocate for residents, protecting their rights and dignity. This program is in partnership with the State of Iowa's Volunteer Ombudsman program and requires a commitment of 3 hours per month.

Driving a Meals on Wheels route, delivering a hot, nutritious noon meal (and a friendly smile) to our homebound neighbors. Delivering a Meals on Wheels route takes about 1-1.5 hours. Volunteers can choose how often they are available to deliver, Monday-Friday. Some deliver daily, others choose one or two days per week or month.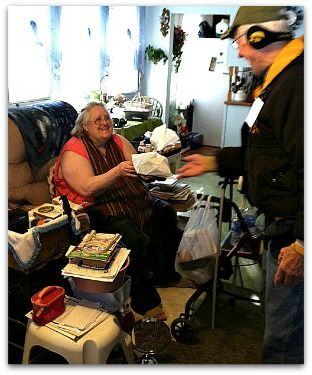 For more information about the National Senior Companion Program or to link into a Senior Companion Program outside of Mills or Pottawattamie County, click here: http://www.nationalservice.gov/programs/senior-corps/rsvp