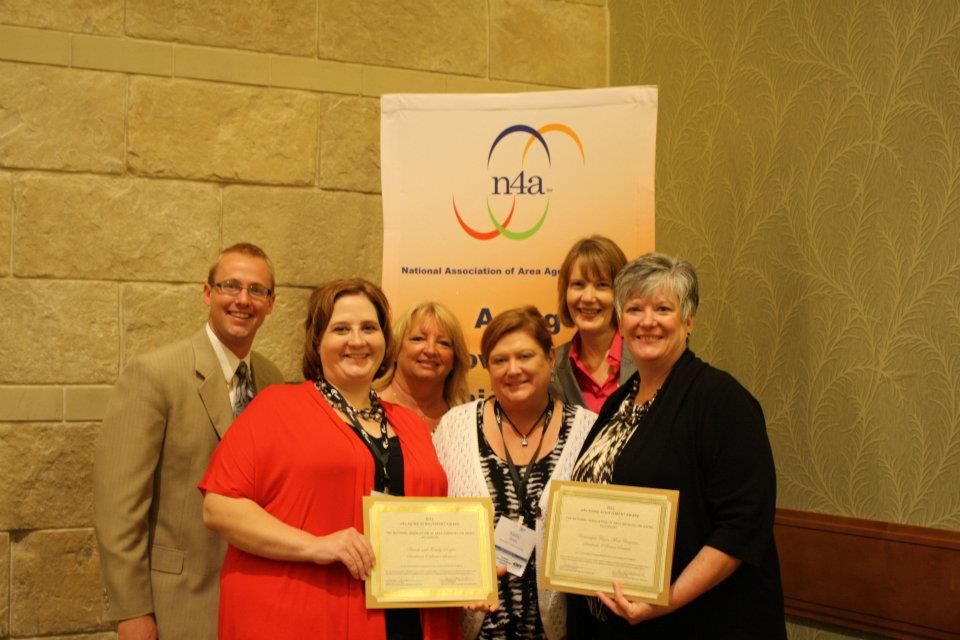 Southwest 8 Programs Honored at National Conference
(Council Bluffs, IA – July 26, 2012) Southwest 8 Senior Services is proud to announce that two agency programs have received honors from the National Association of Area Agencies on Aging (n4a).
On July 8 in Denver, Colorado at the annual conference and tradeshow, n4a President Dawn Simonson presented Southwest 8 Executive Director Barb Morrison with two Aging Achievement Awards for the following programs:
Friends and Family Respite Program: Southwest 8's Friends and Family Respite Program is temporary relief care designed for families of adults aged 60 and older with special needs. Respite care can range from a few hours of care provided on a one-time basis to overnight or extended care sessions.
Customized Frozen Meal Program: Qualified clients can choose and customize each order from a variety of 20 different frozen meals which must be ordered in increments of 5 (case). Each meal meets one-third of the dietary guidelines and is approved by a registered dietitian. Frozen meals are prepared fresh by our food vendor daily.
Also in attendance at the awards luncheon were Southwest 8 staff members Holly Senrick, who coordinates the Friends and Family Respite Program, and Kelly Butts, Director of Development.
N4a began the Aging Innovations and Achievement Awards as a way to share best practices and new and unique programming among all of the area agencies nationwide, allowing agencies to duplicate great ideas. Southwest 8 developed two of the 47 total programs honored at the luncheon.
If you would like to learn more about any of the programs, services or aging issues, please call us at Southwest 8 Senior Services: 800-432-9209 or 712-328-2540.
The experts at Southwest 8 Senior Services, Inc. know just how to handle the challenges that aging brings. We have been helping seniors maintain their independence in the community since 1980. We provide a broad range of programs that support seniors, caregivers and their families in the eight southwest counties of Iowa: Cass, Fremont, Harrison, Mills, Montgomery, Page, Pottawattamie, and Shelby.