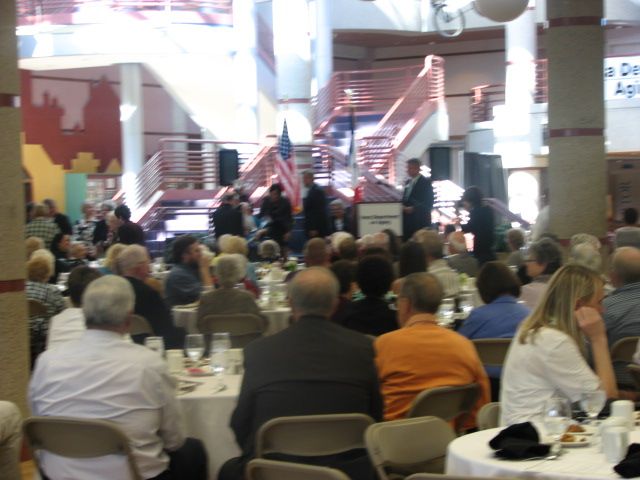 Interested in living until age 100 and beyond? Five-hundred and eighty men and women in Iowa know the secrets to living a long and healthy life. In fact, they've all managed to do it.

On Monday, Oct. 3, the Iowa Department on Aging held the first annual Centenarian Honors Luncheon at the Iowa Historical Building in Des Moines.
The Iowa Department on Aging Centenarian Registry, which is in the process of being updated, reports that the oldest Iowan, to date, is Dina Manfredini at age 114 years old and resides in Johnston, Iowa. She was not present at the luncheon.

Twenty-six new centenarians were added to the registry this year, and were honored at the luncheon held Monday. They were given the opportunity to share tidbits from their lives and their secret to living to age 100.

Here are some pieces of advice and interesting stories from these special people:


"Work and stay active doing things for yourself as long as you can and keep your mind active as well." - Isabelle Buser, 100, Lone Tree, Iowa. Isabelle's great-great-great aunt was Kathryn Bates, author of the song "America the Beautiful."


"Take care of your health. Do not worry – just take each day as it comes." - Viola Roth, 102, Williamsburg, Iowa


"I had one sister that lived to be 102. My other three sisters and parents died while in their 70's and 80's and lived just as carefully and healthfully or more so. Some things are beyond our control." - John Dykstra, 100, Mitchellville, Iowa


"Try to keep busy if you are able. Don't sit all day." - Hilda Crabtree, 102, Des Moines, Iowa


"1. Live a healthy life style; 2. Don't smoke; 3. Plant a big garden; 4. Live your faith; 5. Don't worry about things you can't do anything about." - Louis Frederick, 101, Des Moines, Iowa


"The Lord just keeps my heart going. Take everything in moderation and stay active." - Kenneth Gordon, 100, Webster City, Iowa. Kenneth rode his bicycle 'all over town' well into his 80's and in 1986, at age 76, he took a motorcycle safety course (along with his grand-daughter Becky's high school friends) and got his first motorcycle.


"Marry a good wife (he says his was Adah Miller). Remain flexible and have the ability to accept change; work hard but also enjoy leisure time with family and friends; exercise daily; maintain a balance in life; have a good sense of humor and keep a positive attitude; stay mentally active and interested in life." - Darrell Guthrie, 100, Cedar Falls, Iowa


"Well, I guess they don't want me up there yet and they don't want me down there so here I am in the middle." - Berdena Reeves, 101, Des Moines, Iowa. Berdena rode the tallest zip line in the world three times the month before she turned age 101. It was the Vigilante Extreme ZipRider in Branson, Missouri. She rode it once on the way down to Texas, and then rode it two more times on the way back to Des Moines. She said she felt like she was flying. The manager told her she would probably be in the Guinness Book of World Records and that is being explored.


When she was born, the doctor in Winterset told Katheryne's mother to "throw this one over the barn" because he thought that she wasn't going to make it. But the midwives present, including her grandma, told her mother there wasn't a thing wrong with that baby based on her cries. "I wish that doctor could see me now! I may have another 100th birthday since this one turned out so well!" - Willanna Katheryne Stout, 100, Des Moines, Iowa.


Margaret loves to walk and says she has walked all her life. She always tries to be cheerful and says that her Mother had a special rule: "Kindness is to do and say the kindest things in the kindest way." - Margaret Cundy, 100, Cedar Falls, Iowa


Interesting Facts about Iowa Centenarians:


There are 580 centenarians in Iowa.
78 of these men and women are age 105 or older. 83% of them are women.
495 of the population of centenarians (or 85%) are women and 85 (15%) are men.
464 (or 80%) are living in facilities.
116 (or 20%) live in their own homes or with relatives.
Dina Manfredini of Johnston, Iowa is 114 years old.
Meta Ilten of Cedar Rapids, Iowa is 112 years old.
Dolores Lauenroth of Burlington, Iowa is 110 years old.


Centenarians by Age:
Age 100: 143 (119 women, 24 men)
Age 101: 144 (123 women, 21 men)
Age 102: 103 (93 women, 10 men)
Age 103: 68 (54 women, 14 men)
Age 104: 44 (42 women, 2 men)
Age 105: 28 (24 women, 4 men)
Age 106: 25 (19 women, 6 men)
Age 107: 12 (10 women, 2 men)
Age 108: 6 (6 women, 0 men)
Age 109: 3 (1 woman, 2 men)


For more information about the Centenarian Honor's Luncheon, contact Machelle Shaffer with the Iowa Department of Aging at machelle.shaffer@iowa.gov.